Standard Carports
A standard carport is a great to protect your vehicles from the elements! This standard model will give you quick and efficient protection from rain, snow, and even hail!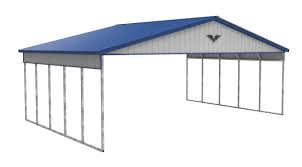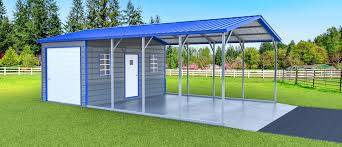 Combo Unit Carport
 Are you looking for a place to park your car and be able to store your extra items all in one place? The Combo Unit features covered parking along with a fully enclosed storage area to keep all your items secured safley inside!
Enclosed Garage Carport
With the fully enclosed Garage Package, you get the best of both worlds! A place to park along with storage for anything you have, all under one roof!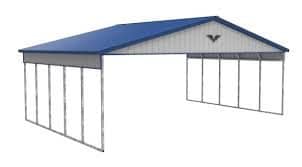 Looking for Pricing?
 Click the button to the right and it will give you the basic pricing for the standard carports! If you are needing pricing for a custom unit, give us a call and we will put it together for you!
CONTACT US FOR A QUOTE
Give us a call and one of our sales reps will be happy to assist you with the design of your carport! If you're not sure what you need, our professional sales team will gladly help you get an idea of what you are looking for based on your needs!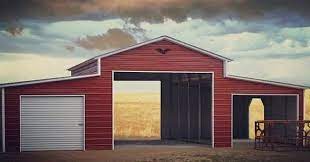 Horse Barn Carport
The Horse Barn model gives a great overall usage for the building! On one, side, you can store your tractor/equipment, the other can be used for livestock, the middle really for anything you want! The versatility of this model is unmatched! There are many options that can be added to this design!
Lean-To Animal Shelters
Give your animals the protection they need with a livestock shelter! This unit gives a simple and quick solution for any animals you may have!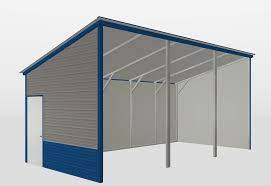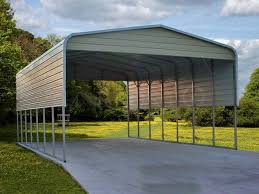 RV Covers
The RV Cover is a versatile and customizable model that allows you to have just a top cover, half closed, or fully enclosed! Whatver option works best for you and your equipment, we have a solution!
Custom Project
Whatever you need, we have a solution for you! Wether it be a pavilion cover, closed in garage/workshop, animal shelter, and many other things, we can design a product that will fill any need you have!